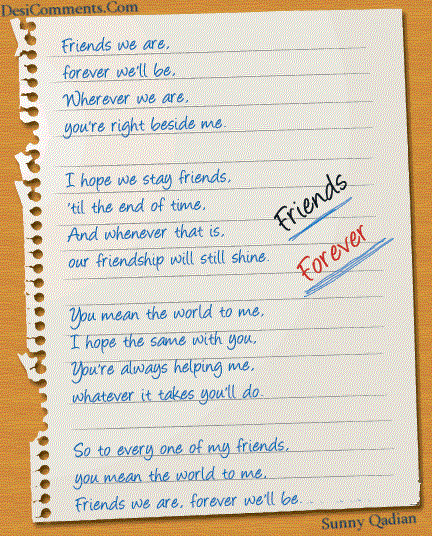 Friends Forever??? Sahabat sejati, seseorang yang akan selalu ada disamping kita sejak kita menemukannya entah dari mana, ia akan menjaga kita sejak hari ini dan nanti. Kemudian kita menua dan terpisah pada akhir dunia. Hmmm keliatannya so sweet.
Siapa yang gak pengen punya sahabat sejati? siapa yang gak pengen selalu ada disamping orang yang pasti akan mendukungnya?? sepertinya sebagian besar manusia akan menginginkannya tidak terkecuali dengan kita. Eh, kita?? elu aja kali gw sih kagak. Haha piss! becanda dowang kok gag usah dianggap ciyus ciyus amad
Friends forever, acap disakralkan oleh anak2 muda meski enggak luput juga beberapa abegeh kadaluarsa juga tetap mengagungkannya. Friends forever adalah kondisi ideal hubungan kita dengan seseorang yang sangat dekat dan berarti bagi kita. Seorang sahabat yang tidak akan menghakimi kita ketika salah, mengejek kita dengan pedas dan kita tak perlu merasa sakit hati, karena kita tahu dia berani mengatakannya karena merasa yakin kita tak akan menganggapnya sebagai sebuah makian.
Masalahnya kita tidak akan selamanya ada bersama dengan mereka, sahabat2 terbaik kita sejak jaman TK sampai mahasiswa, semua telah memiliki kehidupannya masing2, hanya sesekali dan satu dua saja yang sempat kita jumpai. Beberapa yang masih bertahan dengan kita, suatu saat pun akan menghilang dari peredaran.
Ya, sahabat memang akan menjadi bagian penting bagi setiap manusia, setiap hari setiap saat mereka akan memiliki sahabat2 baru untuk menggantikan sahabat2 lama mereka, tapi after all, nothing last forever, kita akan berlayar dengan kapal impian kita sendiri, sama halnya dengan mereka yang akan terbang menuju mimpi mereka masing2.
No one stand still with us, except our soulmate if we have.
Our beloved friends won't ever go with same direction with us.
So we need say goodbye when the times has come.
What can we do is just giving our heart a moment to remember,
That we were belong together.